Career Pathways
Welcome to Student Career Pathways
Mr Matcham is our Careers Lead. If you need to get in touch with him, email careerpath@cottesloe.bucks.sch.uk.
We are proud that we were awarded 8/8 on the Gatsby Benchmark.
Statutory Information | Provider Access
Application for Provider Access
Introduction
This document sets out the school's arrangements for managing the access of providers to pupils at the school for the purpose of giving them information about the provider's education or training offer. This complies with the school's legal obligations under Section 42B of the Education Act 1997.
Pupil entitlement
All pupils in years 7 to 13 are entitled:
to find out about technical education qualifications and apprenticeships opportunities, as part of a careers programme which provides information on the full range of education and training options available at each transition point
to hear from a range of local providers about the opportunities they offer, including technical education and apprenticeships – through options events, assemblies and group discussions and taster events
to understand how to make applications for the full range of academic and technical courses.
Management of provider access requests
Procedure
A provider wishing to request access should contact Mr C. Matcham or Mrs N. Hulland
Telephone 01296 688264
Email cmatcham@cottesloe.bucks.sch.uk
Opportunities for access
The school offers a comprehensive Careers Education, Information, Advice and Guidance programme and an overview of this programme can be seen in the School's Careers Charter which can be seen on the school website. Please speak to our Careers Advisor to identify the most suitable opportunity for you. The school will make a suitable space available for discussions between the provider and students, as appropriate to the activity. The school will also make available ICT and other specialist equipment to support provider presentations. This will all be discussed and agreed upon in advance of the visit with the Careers Advisor or a member of their team.
Providers are welcome to leave a copy of their prospectus or other relevant course literature with the Careers Advisor so that they can be displayed in the Careers Section of the school library.
Careers Intent
Networking is a vital component of the modern and increasingly competitive world. Never has the adage 'it's not what you know, but who you know' been more pertinent, so the core of our philosophy is to help students to form valuable networks, which we hope will become a lifelong practice.
At the end of July, all Year 10 students have a two week Work Experience. To help with this I have a network of five staff each with specific experience outside of the school environment who help and support the programme. You will also find in these pages details of our 'Gold Star placements; employers who we highly recommend along with a list of our Partnership Employers, companies who have teamed up with us to offer apprenticeships to our students when they become available. In these pages, you will find all the admin and guidance needed to complete a successful Work Experience.
Throughout their time in Sixth Form students are expected to undertake Work Experience. Unlike Year 10 there is no set time of the year for this and no set duration, it can be in a block or preferably a variety of short placements spread over the two years. Sixth formers are also expected to work shadow and to be part of a regular enrichment programme, usually involving an hour or two a week with various local employers such as child care providers, the local primary school and care home. We have also networked with Loughborough University so that students can visit during the Autumn term. Students can also 'student shadow' undergraduates for a day at a number of participating organisations.
Online networking consists mainly of receiving regular updates from COA Limited who provide an update on developments within the career sectors from across the internet. We also make an annual pilgrimage to the Skills Show at NEC Birmingham. Another opportunity for Networking is the National Apprenticeship Show which we will be attending in March, and don't forget our own Careers Fair.
The final source of Networking is through the universities and colleges that annually send us their details of open days. Independent Careers advice is essential for all students, and we are fortunate enough to be able to offer this in house. One of our aims at Careers@Cottesloe is to use careers advice to motivate and sometimes regenerate enthusiasm in students who have become disinterested and disengaged because they have no specific goals to work towards. Improved progress data is often indicative of the importance of this intervention. We measure the school's effectiveness through analysis of Destinations Data and by comparing our performance in relation to the Gatsby Benchmarks with other schools (Nationally). We currently have 7 of the 8 benchmarks and are 80% compliant with the 8th. Benchmarks are reviewed every half term.
We work on a three-year cycle and are obliged to keep information for this period of time. The next formal review is in 2024.
The major benefit to a school of this system is that there is little disruption to learning compared to students having to go off-site for this service. Our service is free, but you will also find on these pages contacts and costings for services that you can access independently.
We have a careers library located in C Block which is home to our famous Careers Tree where you can find the often astonishing and sometimes torturous paths your teachers have taken to get where they are now. This can be used for either inspiration or gossip. A job is temporary, a career is a lifelong journey of learning. Networking enables all students to become more confident, more empowered and responsible particularly concerning their career choices. If you are still reading this, congratulations, we have successfully networked.
Clive Matcham
QCF Dip. Careers Guidance. RCDP
Cottesloe Careers Provision
Welcome to The Cottesloe School Careers Plan (PDF), this gives each Year Group guidance as to what Career Pathway Opportunities are planned throughout the school year; to get students thinking ahead when planning their career pathway. The plan is set for the next three years, opportunities will arise and events may be added.
We hope that there is something for every student to look forward to.
Mr Matcham | Careers Consultant
Careers Fair 2024
If you would like to exhibit at our very popular Careers Fair, you can sign up now!
Inspiration And Motivation
Vision for Work Experience and Careers at the Cottesloe School


The DFE states that the provision of Work Experience and Careers guidance will be given, as of April 2014, higher priority in subsequent inspections. It specifies what schools 'must' provide and what they have a 'duty' to provide. The differentiation between these two keywords will determine whether a school is designated as 'requires improvement' or 'good'. As I share the school's determination to be considered 'good' or better, my vision for Work Experience and Careers is to provide a service that embraces both statutory requirements and exemplary practice.
My personal ethos is that Work Experience and Careers advice are not just necessary preparation for the post-16 future but is vital to inspire and motivate students to raise their academic attainment in the present. On this website, you will find an index that, when all the individual elements are combined, represent my vision for Inspiration and Motivation at The Cottesloe School.
Careers guidance interviews at Key Stage 4 are a means by which I can provide targeted interventions for students struggling to reach the necessary academic levels required to access education at post-16 or apprenticeships. Currently, a substantial number of Year 10 students participate in Work Experience; those who do not take up this option are given the opportunity in Year 12. My aim is to achieve 100% participation within the next two years. I currently have a large portfolio of businesses that already have the necessary clearance to take on Work Experience students. For inspiration look at our recommended and Gold Star placements on this site.
I have formed a small team of colleagues whose expertise and knowledge are vital not only in helping students to find placements but in supporting them during their Work Experience.
In my opinion, there are two major contributing factors to raising academic attainment: high-quality teaching, and inspired and motivated students. A coordinated careers provision has an important role in the latter. Therefore, raised attainment at Key Stage 4 and 5 and the increased number of students attending our Sixth Form and then progressing to universities, apprenticeships and employment, is both my ambition and my success criteria.
Work Experience
Year 10 Work Experience 2024
The dates for this year are 10th July to 24th July.
We are in competition with all the schools in Aylesbury and Milton Keynes to secure the best placements. Don't delay. Work Experience application form (link). You and your parents/carers must complete this form by 12th April 2024. If you already have a placement lined up, please ensure that they fill in this Employer Form (link).
Work Experience Checklist
Complete the online Work Experience application form (link)
Find a placement. There are some recommendations on the website
Contact the employer by phone or email
Arrange an interview
Ensure that they fill in this online Employer Form (link)
Begin your Work Experience on the given date
Ask your employer to complete Employer Placement Feedback Form (link)
Complete Student Placement Feedback Form (link)
What is Work Experience?
Work Experience is a vital part of a rounded education. The whole reason we go to school is to become fully functioning, positive members of society, and that in simple terms means becoming part of the workforce; paying taxes, spending your disposable income and doing this for as long as possible. You are more likely to continue to be a member of the workforce and therefore contribute to social cohesion if you are happy at work. So finding the right job is really important and work experience can help you do that. To help you find out what works for you all Year 10 students are strongly advised to take up a two-week work experience programme during the final part of the summer term.
Why do Work Experience?
Work experience is one of the most valuable projects a student can undertake as the placement is well thought through. It helps you to network and this is a key aspect of job hunting, it is not uncommon for a student to be offered an apprenticeship on the back of a successful work experience. It can also confirm that your choice of career is sound or alternatively if the placement doesn't go well, force you to reassess your options.

When applying for work, apprenticeships, college, Sixth Form or university your chance of acceptance is increased significantly if you have relevant work experience on your CV and personal statement. Most good nursing courses for example will expect a minimum of six weeks of experience in public services as entry criteria, most of which would probably be voluntary. So you can get two of those weeks out of the way in Year 10.

The whole process of finding work, applying for work, filling in forms and perhaps even being interviewed is an essential life skill, as indeed is the resilience you acquire by applying for work, being unsuccessful and having to try again; and again if necessary. Finding work is competitive and this is a good time to find this out for yourself. And yes, providing work experience is a statutory requirement for all schools: you have to do it, and we have to enable it.

Get into the right frame of mind and start thinking like a job seeker!
To view companies that offer work experience use this spreadsheet (link)
Apprenticeships
(Click on the image above)
What is an Apprenticeship?
Earn while you learn. An apprenticeship is a paid period of training that allows you to learn a particular skill or set of skills and can last between one and four years.
What are my options?
Apprenticeships are an exciting option - you get hands-on training and also the chance to put your skills into practice.
Apprenticeships are available at multiple levels. From school leavers, people upskill in their careers and complete career changes. There are hundreds to choose from and some include a qualification, like a degree.
There are three levels of apprenticeships:
apprenticeships
advanced apprenticeships
higher apprenticeships
What you'll earn
What you earn will depend on the industry, location and type of apprenticeship you choose.
If you're aged 16 to 18 or in the first year of your apprenticeship, you're entitled to the apprentice rate.
If you're 19 or over and have completed the first year of your apprenticeship, you're entitled to the National Minimum Wage.
This is the minimum you'll earn - many employers pay a lot more and offer their apprentices a competitive salary.
What it costs
Apprenticeships are funded from contributions made by the government and your employer. This means you will not have any student loans or tuition fees.
You'll just need to cover the cost of your day-to-day expenses, such as lunch and travel.
If you're 16 to 24 and a care leaver, you'll receive a £1,000 bursary payment to support you in the first year of your apprenticeship.
Top 100 Apprenticeship Employers 2023 (PDF)
Top 50 Apprenticeship Small to Medium Employers 2023 (PDF)
Apprenticeships Websites:
Careers and Future Finding Tools
Post 16
General
Writing a CV
Health Careers
Local Government Careers
Her Majesty's Government Communications Centre (HMGCC)
Women and STEM
Football Careers
Careers in Fashion
Health and Social Care
Milton Keynes Council now offers Degree Apprenticeships in partnership with The Open University for Social Work and Occupational Therapy.
Anyone can apply for these positions, however, having been involved in supporting with interviews last year I can advise that typically those who start working for the council as SW or OT Assistants are successful in application and selection as they have the desirable work experience and knowledge.
Assistant roles are available at various points during the year.
Interviews for the degree apprenticeships were advertised in early September, the shortlisting process concluded at the end of October and Interviews are taking place in early November (this is the usual timeline each year).
Recruitment has only just started again, however, there are slowly more jobs becoming available as the weeks go by.
All job posts, including Assistant and Apprenticeship roles, are posted on the council website as they become available:
Career Pathway in Health and Social Care | Milton Keynes Council (Link) this website contains links to videos and presentations.
T-Levels
T-Levels are a new qualification designed to give you a head start towards the future you want. They follow GCSEs and are equivalent to 3 A-Levels. The 2-year qualification of full-time study, or 3 years if studying a transition programme, brings classroom and work placement together, on a course designed with employers and businesses. For more information see the Government website (link). The (PDF) below shows what T-Levels are available.
LinkedIn for Sixth Formers
How to kick start your career online
Buckinghamshire Skill Hub shared the importance of having an LinkedIn Profile (link).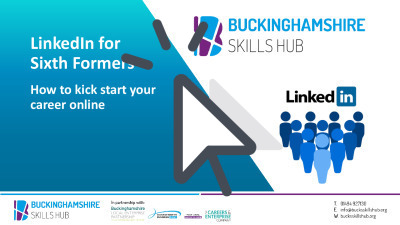 Labour Market Information (LMI)
Labour Market Information (LMI) tells you about the workplace or labour market. LMI describes the condition of the labour market, past and present, as well as future projections. The word future here is important.
Let's say that you want to be a builder, at the moment the building industry is robust in this area, but what is the forecast for the future, particularly when you will be qualified and looking for a job?
Getting a job and making a career is a strategic process. If you are tied to a certain geographic area then getting a job in your chosen field of interest might be problematic if that industry is in decline or even doesn't have a footprint in that area yet, the word 'yet' becomes important.
https://www.lmiforall.org.uk/ | The LMI for All portal provides high-quality, reliable labour market information (LMI) to inform career decisions.
Because LMI will tell you if this footprint is imminent or unlikely ever to exist. This gives you powerful knowledge to inform your career choices and where you might end up living.
StartProfile not only helps you to find a career but will also tell you whether the employment opportunities in your chosen geographical area are strong or weak.
Labour market overview, UK Statistical bulletins | Estimates of employment, unemployment, economic inactivity and other employment-related statistics for the UK.
National Careers Service provides career information, advice and guidance. We can help you to make decisions on learning, training and work at all stages in your career.
Parental Guidance